London Underground Fast Facts – CNN
[ad_1]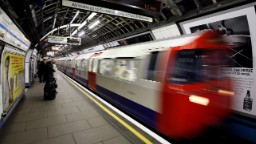 There are a number of old stations and tunnels that are now closed.
Some stations are under the jurisdiction of the BTP and local police agencies.
Over 12,000 CCTV cameras are used to monitor the London Underground stations, depots, car parks and trains.
Timeline
January 9, 1863 – The London Underground begins running on the Metropolitan Railway. Forty thousand passengers ride the Underground on the first day. This route is now served by the Circle Line and the Hammersmith & City Line.
1863 – Metropolitan Line opens (purple line on the map).
1864 – Hammersmith & City Line opens (pink line on the map).
1868 – District Line opens (green line on the map).
1869 – East London Line opens (orange line on the map).
1884 – Circle Line opens (yellow line on the map).
1890 – Northern Line opens (black line on the map).
1898 – Waterloo & City Line opens (teal on the map).
1900 – Central Line opens (red line on the map).
1906 – Bakerloo Line opens (brown line on the map). Piccadilly Line opens (dark blue on the map).
1911 – The first escalators are installed, at Earl's Court station.
1913 – First appearance of the circle and horizontal bar symbol.
1929 – The last manually operated doors on tube trains are replaced by air-operated doors.
1969 – Victoria Line opens (light blue on the map).
1979 – Jubilee Line opens (silver line on the map).
November 18, 1987 – A fire at King's Cross station is caused by a burning match falling onto a wooden-tread escalator panel. Thirty-one people die in the fire.
2007- For the first time, the Tube carries one billion passengers in a year.
2013 – The 150th anniversary.
February 23, 2016 – It is announced that Crossrail, a new rail line project, will be called the Elizabeth Line. The new line is scheduled to fully open in autumn 2019.
May 12, 2021 – Safety testing begins on the new Crossrail/Elizabeth Line trains. Project leaders expect the new line to begin running in early 2022, almost four years behind schedule.
[ad_2]

Source link