How Facebook, Twitter are dealing with Taliban takeover
[ad_1]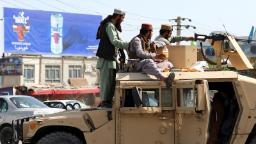 On Tuesday,
Facebook
(FB)
reiterated its ban on accounts praising, supporting, or representing the Taliban from its platforms, including WhatsApp and Instagram, and said that it would remove "accounts maintained by or on behalf of the Taliban."
"The Taliban is sanctioned as a terrorist organization under US law and we have banned them from our services under our Dangerous Organization policies," a company spokesperson said.
Facebook designates "
dangerous organizations
" into three tiers, with the first one being subjected to "the most extensive enforcement." Entities in tier 1 include terrorist, hate, and criminal organizations.
While the Taliban have been banned from Facebook's platforms for "
years
," the company did not reveal when exactly the restrictions were placed.
The company said it employs a "dedicated team of Afghanistan experts, who are native Dari and Pashto speakers and have knowledge of local context" tasked with identifying "emerging issues."
"Regardless of who holds power, we will take the appropriate action against accounts and content that breaks our rules," Facebook stated.
The Taliban have not been officially designated as a Foreign Terrorist Organization by the United States. However, the group was placed on a US Treasury Department list of Specially Designated Global Terrorists and a Specially Designated Nationals list.
Meanwhile, other big social media platforms were less clear about their strategy to deal with content supporting the Taliban.
A Twitter spokesperson said that people in Afghanistan are using the platform to seek help, and the company promised to "remain vigilant" in enforcing its policies, including those that ban content that glorifies violence.
YouTube said Tuesday it will "terminate" accounts run by the Afghan Taliban, clarifying its earlier remarks that suggested the group is not banned from the video platform.
Following repeated questions by CNN, YouTube said in a statement that the company "complies with all applicable sanctions and trade compliance laws, including relevant U.S. sanctions. As such, if we find an account believed to be owned and operated by the Afghan Taliban, we terminate it. Further, our policies prohibit content that incites violence."
YouTube told CNN that because the Afghan Taliban appears on the Treasury Department's sanctions list, the platform will not allow accounts controlled by the group. It had previously told CNN that it looks to the State Department's list of foreign terrorist organizations to inform its enforcement policy, but the Afghan Taliban is not named on that list.
Brian Fung contributed to this report.


[ad_2]

Source link